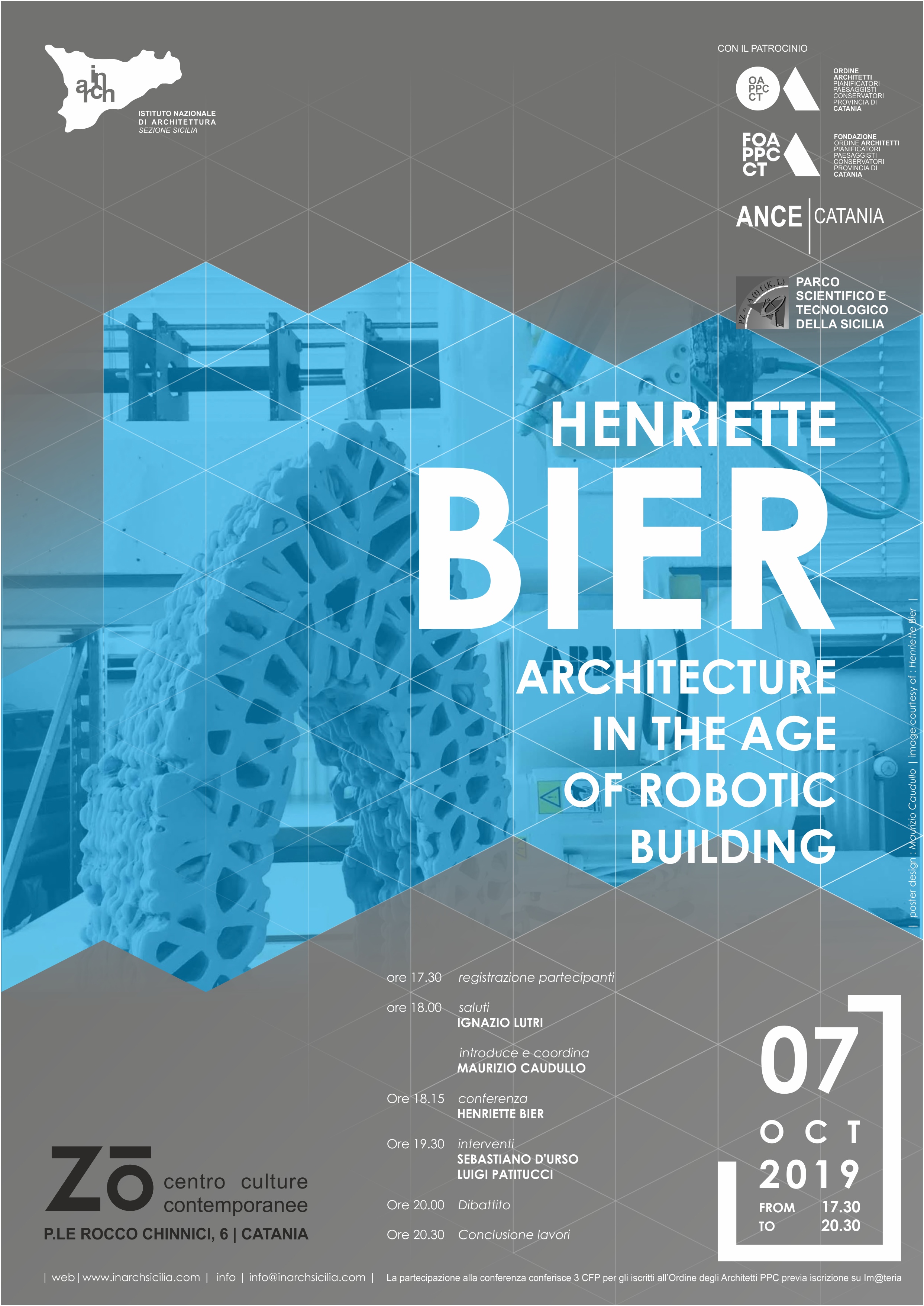 HENRIETTE BIER
Architecture in the Age of Robotic Building
Lunedì 07 ottobre 2019 – ore 18.00
Zō Centro Culture Contemporanee – Piazzale Rocco Chinnici, 6, 95129 Catania CT
Abstract
L'architettura incorpora oggi sempre più elementi costruttivi e sistemi spaziali in grado di adattarsi all'ambiente circostante e agli abitanti. Questi sistemi si basano su "reti di attivatori" (costituite da sensori wireless) che richiedono processi di progettazione e produzione controllati numericamente e (in parte o completamente) robotizzati. Dalla produzione robotica (on e off-site) all'applicazione robotica che interviene negli edifici e nell'ambiente a migliorare la vita di tutti i giorni, la conferenza di H. Bier presenta i risultati degli ultimi decenni e delinea i potenziali sviluppi futuri nel Robotic Building
Henriette Bier
Associate Professor Robotic Building – Faculty of Architecture & Built Environment – TU Delft 
After graduating in architecture (1998) from the Technical University Karlsruhe, Henriette Bier has worked with Morphosis (1999-2001) on internationally relevant projects in the US and Europe. She has taught data-driven design at universities in EU and since 2004 she mainly teaches and researches at the Technical University Delft with focus on computational design and robotics in architecture. She is initiator and leader of the Robotic Building group and co- founding member of Delft Robotics Institute.
La conferenza è patrocinata da:
Ance Catania, Ordine degli Architetti PPC di Catania, Fondazione dell'Ordine degli Architetti PPC di Catania, Parco Scientifico e Tecnologico della Sicilia.
La partecipazione alla conferenza conferisce 3 CFP per gli iscritti all'Ordine degli Architetti PPC previa iscrizione su Im@teria.